Whether you are a member or new to North, we are delighted that you are considering our church for your special day. You will find the facilities offer a beautiful, spiritual environment that will facilitate and complement your memorable occasion.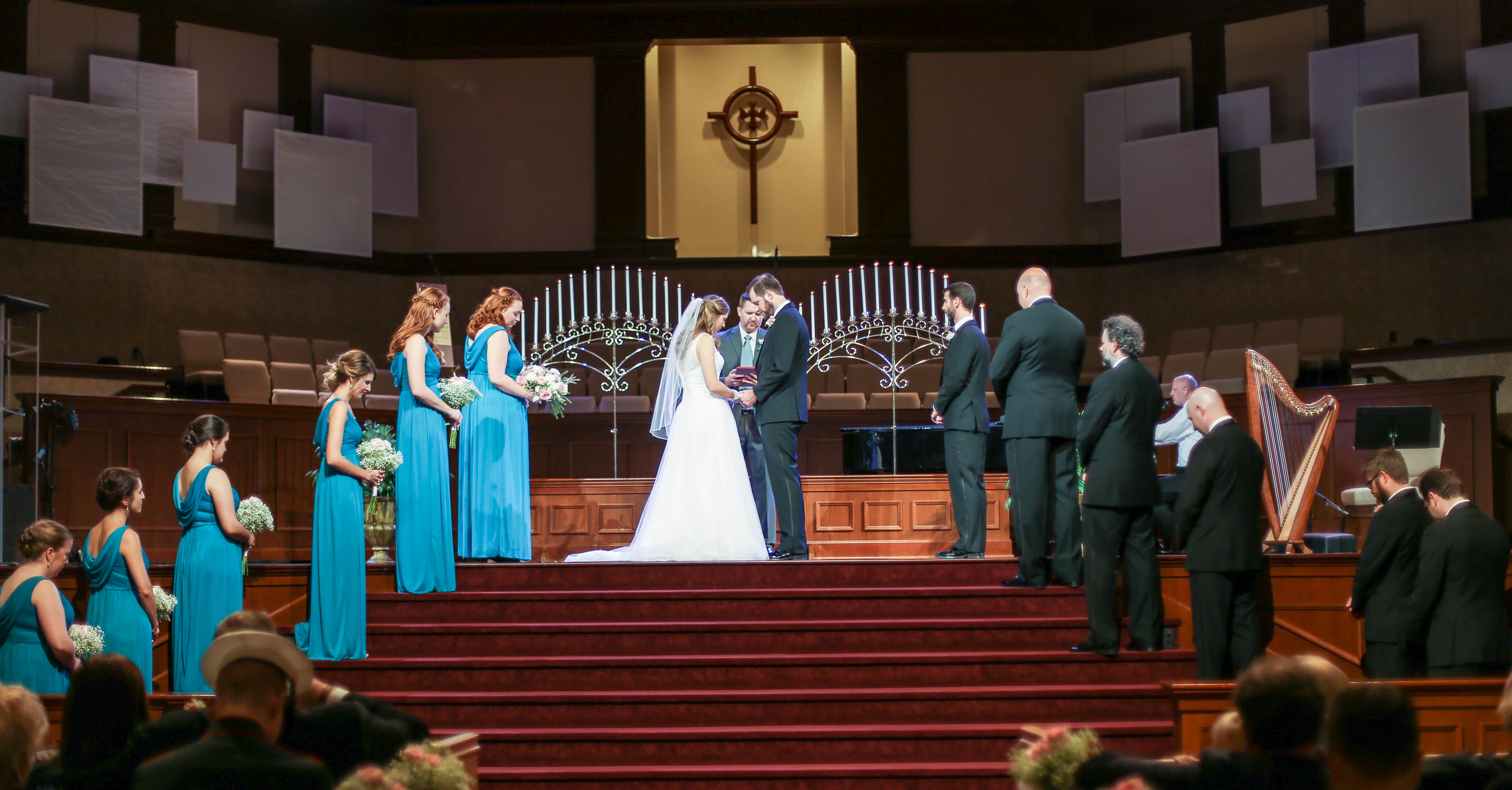 Facilities
The Sanctuary accommodates a large wedding party of up to 1,000 people. The staircase, with rich burgundy carpet and mahogany wood stage, creates a graceful backdrop for wedding photos.
For receptions and rehearsal parties, the Chapel / Fellowship Hall comfortably accommodates up to 100 seated (150 standing) guests.
Wedding Coordinator
All weddings held at North are required to use our Wedding Coordinator. Kathy is here to plan your wedding day event and to reserve the needed equipment and facilities.
Contact Us
Fees
Pricing is based on membership and facility selection.
A "Member" is someone who has formally joined Mount Paran North Church, and whose name appears on our Membership Database with a corresponding member number. "Member Fees" are offered to the bride, the groom, or one of their parents.
A non-refundable $100.00 deposit is required to make the facility reservation. This deposit is applied to the total rental amount due. In the event that the wedding should be postponed or canceled, all fees are returned, except the non-refundable deposit of $100.00. All fees—to be made by check or cash—are due one month prior to the wedding.
→ View Fees and Full Wedding Policy
Scheduling
Weddings are must be scheduled at least three months prior to the wedding date.
Because of heavy church programming, weddings or rehearsals may not be held on Sunday, holidays*, or the month of December.
* Holidays are those days the church offices are closed.
Every effort will be made to avoid scheduling church-wide activities in conflict with your wedding. Changes may be necessary if your scheduled wedding date is more than six months away.
The start times of all wedding ceremonies are allowed between 11am and 6pm.
Each rehearsal is allotted one hour.
Each wedding with a reception at the church is allotted five hours, beginning two hours before the ceremony.
Each wedding without a reception at the church is allotted four hours, beginning two hours before the ceremony.
The allotted times should encompass the following activities:
Wedding party to dress for the wedding and for travel.
Caterer and florist to decorate and clean up.
Photographer and/or videographer to set up and take all photographs.
There must be a minimum of four hours between any two weddings and a minimum of six hours between receptions. The first wedding scheduled will be the determining point for the required hourly separation.
Pastors
Our pastors are available to officiate weddings for an honorarium gift. Pastors or ministers from other churches within the evangelical Christian denomination may officiate your ceremony at our facility, per approval from our Senior Pastor. Outside pastors must meet the state license requirements.
Premarital Counseling
Because of the scriptural emphasis placed on the marriage commitment, we desire to help prepare couples for a lasting marriage. Therefore, all couples who schedule our facility for their wedding ceremony and who use our pastors are required to have premarital counseling.
Music and Sound
If the couple needs a pianist for their ceremony, the Wedding Coordinator can supply them with a Vendors List to choose from. Each music person used is a separate contract between the bride and groom and that person. Their services are not included in the facility fees. It is the bride and groom's responsibility to contact their musician(s) and find out their fees. Their checks should be made payable to the respective musician.
Sound amplification will be necessary for all weddings.The sound system is to be operated by church personnel only.
Catering
It is the bride's responsibility to find and reserve the caterer of her choice. The Wedding Coordinator has a list of caterers (Vendors List) for the bride to choose from, if desired.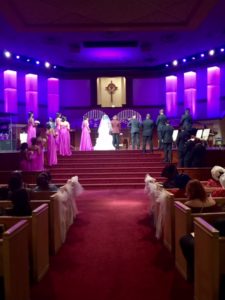 Nursery
A nursery room may be scheduled for the wedding and/or reception. Reservations are made through the Wedding Coordinator at least one month before the wedding. Only certified North nursery workers may be used.

All the information you need about holding a wedding at North can be found in the Wedding Policy.
Baptism and Wedding Coordinator
678.285.3216
"… a man will leave his father and mother and be joined to his wife. The two of them will become one."
— Genesis 2:24